Alberto Alberto Giacometti, Biography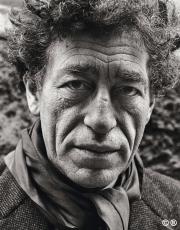 Alberto Giacometti was born in 1901 in Switzerland, in the canton of Graubünden. He is the eldest of four children. His father, Giovani Giacometti, himself a painter, pushed him to take an interest in art. He paints his first works in the family home, mainly portraits of family members or classmates, taking the paternal post -presionist style. At the end of his compulsory school, Alberto went to study at the Ecole des Beaux-Arts in Geneva before arriving in Paris in January 1922.
He attends Atoine Bourdelle's workshop at the Académie de la Grande Chaumière in Montparnasse. He discovered Cubism African art and Greek statuary and was inspired in his early works. His sculptures are in plaster, then sometimes painted or cast in bronze, a technique he will practice until the end of his life.
He moved in December 1926, at No. 46, rue Hippolyte-Maindron (14th arrondissement), in "the cave workshop" he will not leave, despite the small size and discomfort of the place. His brother Diego joined him permanently in 1930. Although most of his production was done in Paris, Giacometti regularly returns to Switzerland where he works in his father's studio in Maloja, a hamlet of Stampa. In 1927, Giacometti exhibited his first works at the Salon des Tuileries (Woman Spoon, 1927).